Cycling Superfuels à la Méditerranée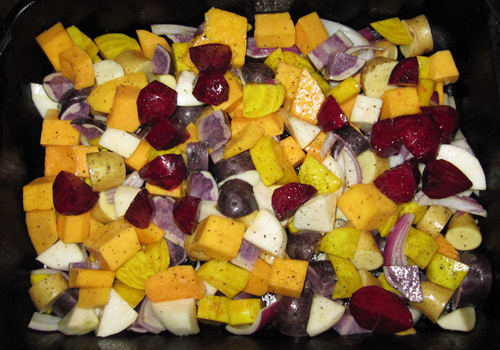 "Five great foods that can help you ride better."
Now that's a promise; I need all the help I can get—this is definitely a clip-and-save, well, download-and-print, article for me. The five foods are
salmon, linguini, red peppers, sweet potatoes and berries
—easy to like—and right in tune with Mediterranean eating. Then I stumble on a dinner menu that manages to combine them all (well, almost) in one big superfuel feast. (Imagine the speed, imagine the power, I fantasize to myself.) The dishes—
Roasted Gingered Salmon with Mango Salsa
and Roasted Root Vegetables—have great Med cred: fish, lots of veggies and fruit, plenty of olive oil, lively citrus and cilantro flavors.
The source of the recipes was unlikely but somehow fitting: I came across them on VeloNews.com last summer when I was following the Tour de France.
They were developed by Leah Vande Velde
(wife of pro cyclist Christian Vande Velde) to feed the pro Garmin bicycling team. The
VeloNews
editors had a few "lost in translation" moments when they converted a recipe meant to feed the entire team to one that would serve 4 regular humans. As the editors wrote in a note: "Maybe if we were more familiar with publishing recipes, we would have noticed that 22 ounces of olive oil and 25 ounces of brown sugar were a bit much for four pieces of salmon? Maybe." That's been corrected. But you still have to pick your own oven temperature for the salmon: 400°F seems to work fine.
I throw in red peppers and sweet potatoes (and whatever else is in season) with the root vegetables. Berries for dessert, and you have all the superfuels in one meal except for the linguini. That's a big "except" for cyclists, I know, but luckily I'm not riding some insane number of miles all over France, so I can save the linguini for another day.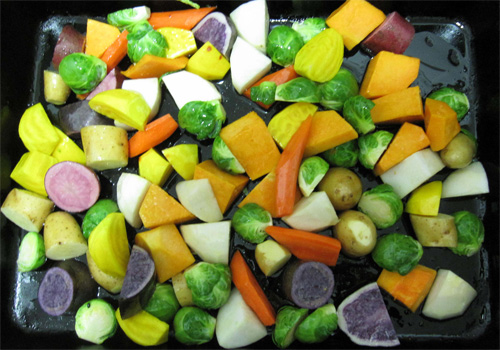 Categories: