Fish for Dinner—Mermaid's Garden Makes It Happen
FRIDAY WAS FISH DAY IN MY FAMILY, for as long as I can remember growing up. Initially a religious observance, it eventually just became the custom and what we all enjoyed eating. It helped that we lived in a town on the shores of Lake Huron. Depending on where we were or what was convenient, dinner might be English-style fish and chips wrapped in newspaper, bass or perch caught in Georgian Bay (and the occasional pike!), shrimp fried rice or pickerel from the fishing boat at the dock down by the bridge.
In my own household, I've always cooked fish, although I drifted from the Friday fish idea—and it didn't always happen weekly. Ever since I became smitten with all things Mediterranean, though, I've been enjoying fish and seafood more again—and exploring new ways to serve it.
This Catalan white bean soup with shrimp, from Nancy Harmon Jenkins's The New Mediterranean Diet Cookbook, makes a meal "handsome enough for a dinner party," as she puts it. She's right.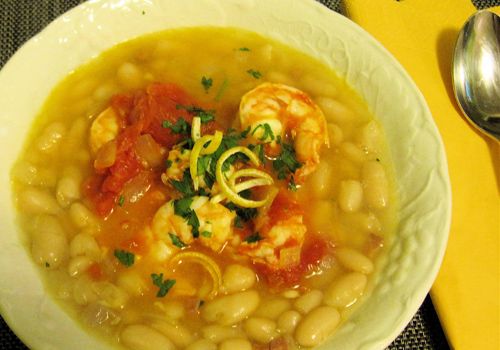 These ocean perch are baked with lemon slices, a little wine, capers and olive oil in the pan. Talk about fast food.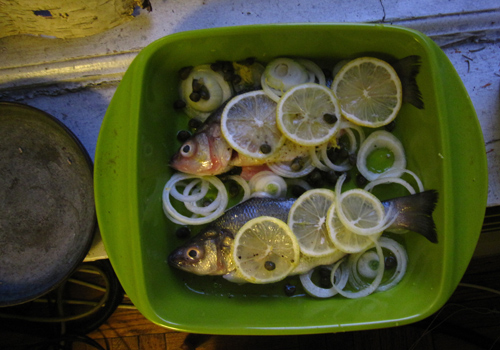 Oven-baked fish fillets with cherry tomatoes, lemon zest, garlic, capers and olive oil are always a hit. These are red snapper.
And here's red snapper again, a couple of big ones from a Portuguese fish store in Toronto, ready to pop in the oven. (It was Christmas Eve and we were cooking for a crowd.) This is another Spanish recipe from Jenkins—the fish is roasted on a bed of sautéed onions and small potatoes, and then topped off with red pepper slices and tomatoes. A one-dish dinner—lazy Mediterraneanista loves it.
This summer, I've found a new and wonderful way to get a regular fish fix—I've joined
Mermaid's Garden Community Supported Fishery
. It was started by Bianca Piccillo, a marine biologist who left academia to work in the food business, and Mark Usewicz, the French-trained executive chef at Palo Santo in Brooklyn. As consultants, Bianca and
Mark work with restaurant professionals helping them "knowledgeably and confidently chose delicious, sustainable fish." Now, as a CSF member, I get that benefit too. Which is nice because
shopping for fish that's good for you and the ocean can be confusing.
The CSF works like a CSA does—you buy a 4-week share (fish for two in my case) and pay $66 up front. On Thursday morning we get an e-mail from Bianca, telling us what fish we'll be getting, how it's caught, even who caught it—and ideas from Mark for cooking it. Later that afternoon, I head to Brooklyn to pick up my share of fish. So far, we've eaten tuna, hake, black bass, striped bass (probably my favorite), pollock. The fish has been fresher than fresh, and although I don't collect if off the boat myself, there's something nice about knowing something about where it came from. I've been enjoying learning a bit more about fishing practices—and different types of ocean fish. And there's something very comfortable—and comforting—for me about reviving that weekly rhythm of fish for dinner that was implanted at a young age. Thank you Bianca and Mark!