Ratatouille By Any Other Name...
When you talk about a Mediterranean diet, it's hard to imagine that 20-plus countries bordering one sea could have anything identifiable as a single diet. Yet because of history and climate and customs, dishes that are really variations on a theme do show up quite often. The
Provençal stew
of eggplant, zucchini, tomatoes, peppers, garlic, onions and olive oil is a good example.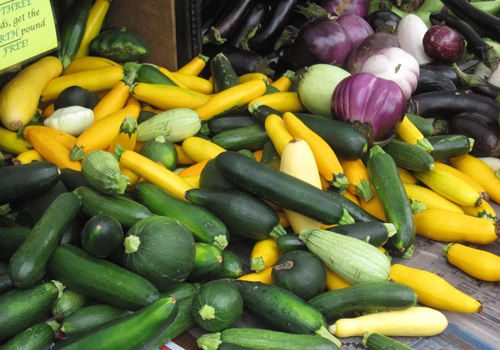 Ratatouille has cousins all over the Mediterranean,
each with its own distinctive personality and special taste. The core ingredients—eggplants, peppers, tomatoes, zucchini—are not even native to the Mediterranean (although the essential olive oil certainly is). They came to the region long ago by different routes. Eggplant was introduced throughout the Mediterranean basin by Arabs who brought it from its native India in the Middle Ages. Bell peppers, zucchini and tomatoes came from the New World, introduced to Europe by Christopher Columbus and his pals. (Strangely enough, all but the zucchini are members of
the nightshade family
. As in deadly nightshade. Which apparently is why Europeans were originally suspicious of the tomato, although the Mediterranean countries certainly came around, adopting it with passion and creativity as a quintessential Med ingredient.)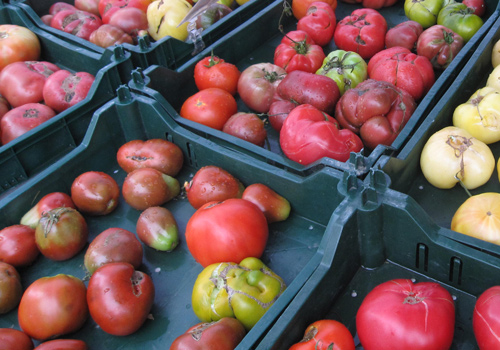 So about all those cousins…this is what I've come across so far. (Additions and corrections welcome! Add a comment below.)
Catalan samfaina, or xamfaina, is virtually identical to ratatouille. Colman Andrews speculates in his book Catalan Cuisine that perhaps, in fact, samfaina came first "considering the early popularity of eggplant [among] Catalans and the fact that [they] were using tomatoes, peppers, and zucchini widely before their French neighbors were." It also sometimes takes the form of a sauce, when it's cooked longer into an almost jammy consistency.
Then there's the caponata side of the family:
Sicilian caponata adds celery to the basic four, plus sweetened vinegar and capers for a sweet-and-sour dish.
Maltese kapunata eliminates the zucchini and adds capers.
Moroccan kamfounata is spiced with cumin and fresh coriander (cilantro).
Tunisians call their stew of peppers and tomatoes
s
hakhshūkha
—to which they add eggs and cayenne, and maybe chickpeas. Tunisian Jews probably brought the dish to Israel, where it is very popular. (Try it right here in NYC at
Hummus Place
, where it includes eggplant and onions.) In fact, it's become a common dish throughout North Africa, where it's sometimes served with spicy Merguez sausage.
Turks love their eggplant
any way they can get it.
Imam bayildi ("the priest swooned")
leaves behind ratatouille's zucchini and pepper and gives center stage to braised
eggplant
, which is stuffed with
onion
, garlic and tomatoes.
Karniyak
keeps the eggplant, pepper, tomatoes trio and adds minced meat and rice.
Musakka was originally an Ottoman dish
, but is widely known today in its Greek incarnation
moussaka
: stewed eggplant and tomatoes with meat, topped with a béchamel sauce. Various
Turkish versions
have zucchini or green peppers or chickpeas or no béchamel.
Then there's the don't-forget-that-other-nightshade-veggie crowd. We're talking potatoes.
Mallorcan tumbet, or tombet, is made from eggplants, peppers, tomatoes—and potatoes—although sometimes zucchini pops in there, too.
Greek briami
is a casserole of zucchini, potatoes, onions and tomatoes (sometimes peppers, too). It makes a great dish for
Meatless Monday, as do many of these.
I haven't tried
this
briami
recipe
yet myself but the test kitchen of one hungry student named Stefan in Montreal vouches for it as a tasty and satisfying meal (good enough to eat two nights in a row).
Here's a simpler but equally stylish rendition of that dish from
Smitten Kitchen
.
The creativity just goes on and on. What's your riff on ratatouille? Or your family's tradition? Write to us!