RECIPE: Shaved Fennel and Apple Salad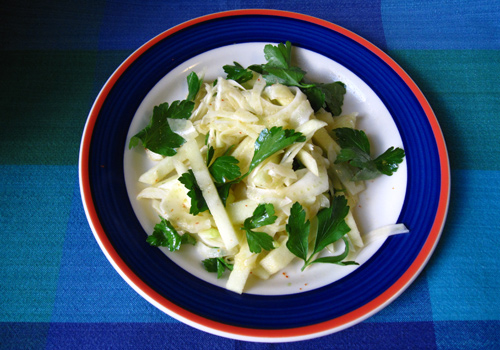 FENNEL MAKES ITS FALL APPEARANCE at the farmers' market along with apples—a great tart/sweet flavor combo, especially when set off by a citrus dressing.
Variations: For the fresh herb, you can always substitute 2 tsp of chopped tarragon or mint for the parsley—experiment with your own favorite flavors. Asian pear (I learned this from my mom) works well in place of the apple. Or you can skip the apple, and instead, add segments of 1 red grapefruit and ¼ cup of pitted Niçoise olives. (I tried the olives with the apple combo but decided I preferred it without.)
This salad also makes a wonderful salsa to serve over simple grilled or roasted fish.
Serves 4
1 crisp, tart apple
(Granny Smith, Cox's Orange Pippin), peeled, quartered, cored, then sliced into matchsticks
1 fennel bulb
, shaved on a mandoline or sliced thinly lengthwise (so the pieces form semi-circles)
¼ cup lemon juice
2 tbs olive oil
¼ tsp sea salt
¼ tsp piment d'Espelette
(a delicate crushed dried pepper from the Basque region of France)
¼ cup flat-leaf parsley leaves or 2 tbs chopped fresh mint or 2 tbs chopped fresh tarragon
Whisk together lemon juice, olive oil, salt and
piment d'Espelette
in a small bowl. Combine the fennel and apple with the parsley or other fresh herb in a large bowl. Add dressing. Toss gently to combine.
Tip:
Once you've cut the apple, you'll want to go ahead and make and dress the salad right away, since the apple will turn brown if left too long.